Sunday was a perfect day to fly— Sunday Oct 13

The foliage is absolutely peaking and no wind.
Temps around 70F.
It simply does not get any better.
Here are a few iPhone videos from the flying.

So Was Monday, I added a couple more videos from Monday, witch started very foggy and cold, but turned brilliant by 11:00 am.

Olof

Field got rolled this Morning — Sunday Oct 6

Thanks to Don, he borrowed the roller from GFF.
It is one of the ones you fill with water, but it is an old huge steel one, it took 30 minutes to fill we figure it weighs about 800 lbs.
The Carpet is much more even as is the whole field. Joe and I tested a couple Jets on it. It is much less bumpy now.
The temperature was pretty chilly so we used the heated up Lipos as hand warmers after the flight.

I did one more flight with the Hawk as can be seen in the video below, shot on the iPhone by Don. It is hard to keep up with a 100mph jet on an iPhone especially with gusty wind, but Don does a great job.

It was too cold and the wind was starting to gust up a bit so we left around noon.
There are probably a few more weeks of nice flying and the field is really in great shape so get out there. I will be back next Sunday unless it snows .

Olof
Not every flight is perfect.

After a perfect weekend Monday looked to be very nice as well even though there was a bit of frost in the valleys.

Joe has had a few great flights with his A10, this was not one of them.

The Lipo ran out of juice and hit cutoff on a slow turn after a second go-around. Not much you can do about that.

The A10 was not badly damaged, it will fly again, maybe even next weekend.

Joe and I had a lot of fun flying jets, but no-one else was there to film those flights. it is really fun that we can now fly jets at our short runway, the new EDF's are made for grass ops in mind. I bet next year will be a huge year for EDF's.

Olof
Some Jet Action

Here is an iPhone video Don shot of Joe and I messing around with a Viper and a BAe hawk.
As you may notice I almost landed with the gear up, but all ended well.

Olof
Sunday the 29 September C 1500 Dual flight.

Paratrooper training flight.

I also pull a couple snap rolls, they are ridiculous in this plane. Unfortunately the iPhone went out of focus a few times and once was as I was snap rolling.

These paratroopers are from Amazon, and work very well, they have seen a lot of action in NH and Vermont. They used to jump from CarbonZ Cub or C47's but now they are pretty much exclusively using the C1500's.

Joe did a great job shooting this video with an iPhone
Joe's 2nd Heli Flight Sunday

Joe had a perfect flight and then went for another, unfortunately there was a failure in the mast assembly.

But as bad as it may look image was light.

No dead sticking a Heli if there is a mechanical problem.

Sunday was a perfect day and a lot of flying got done. Tomorrow looks great as well.

This time of year every day like this is more precious, so get out there and enjoy this wonderful fall weather.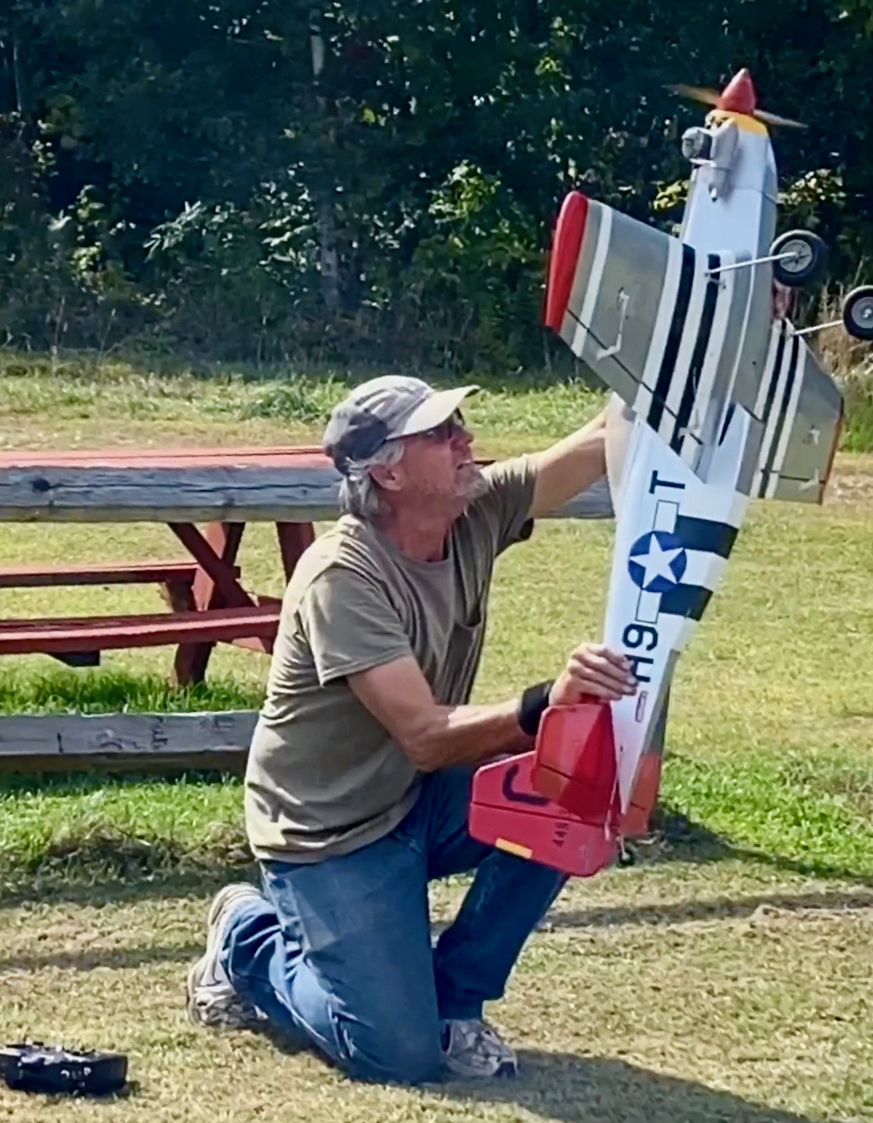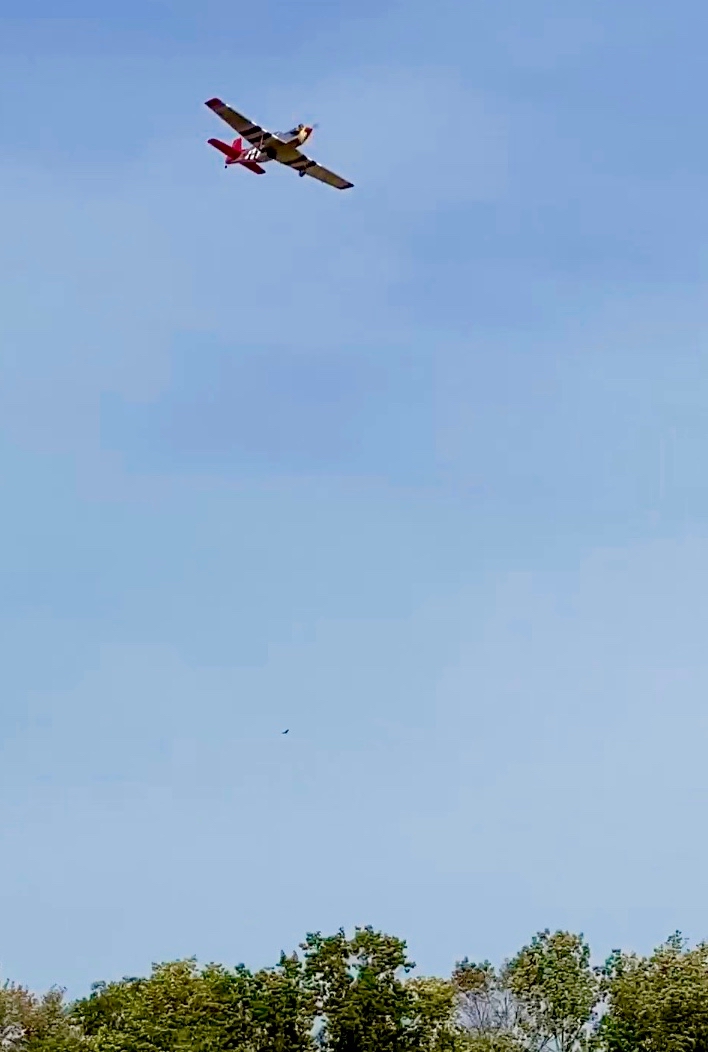 Sunday the 22 September P51 Nitro Action

Joe has his P51 running great again.

Not a very busy Sunday at Hubble field but a few faithful showed up as usual.

It was a bit windy but that is not a problem with fast models, so lots of fun was had, though the heat finally had us quit early. I am nursing a sunburnt nose, but soon we will be complaining about other weather phenomenon.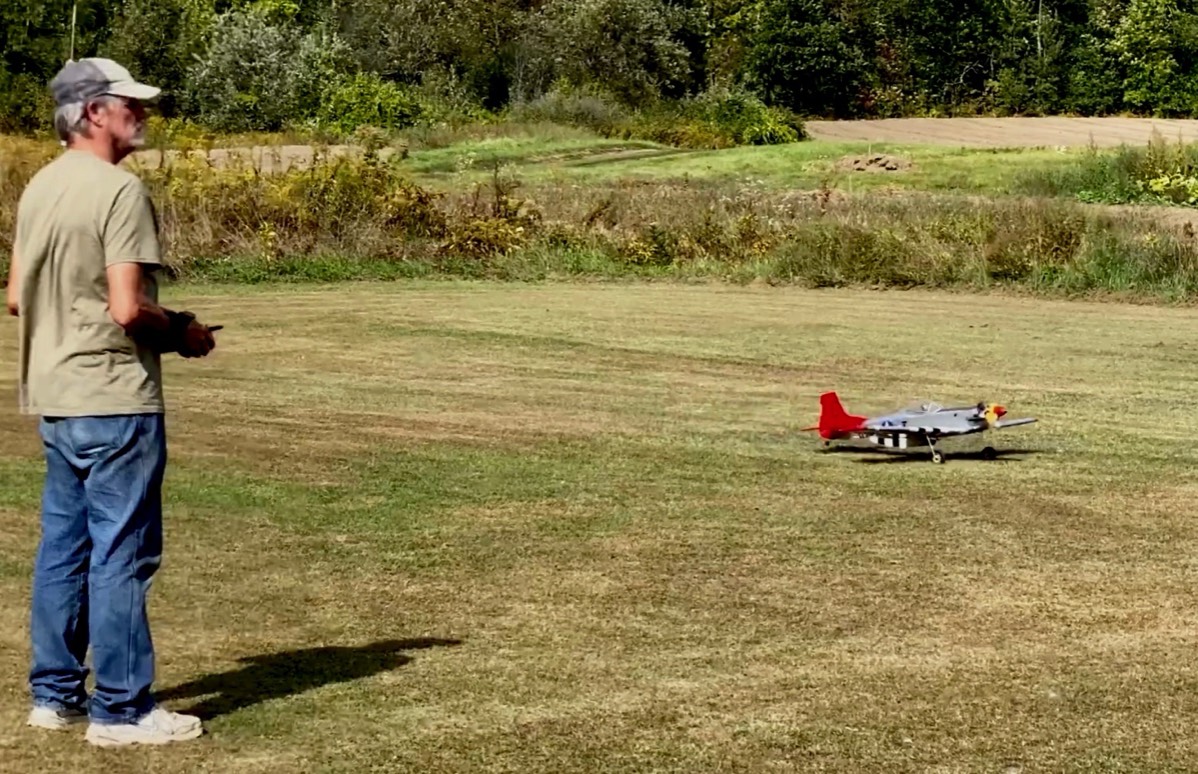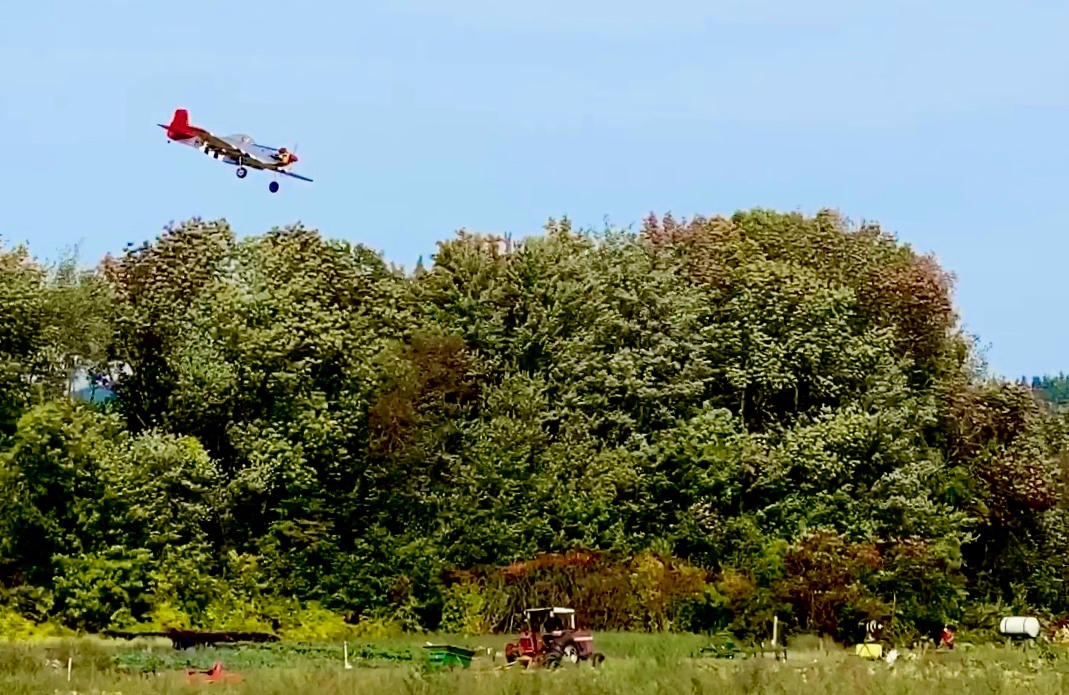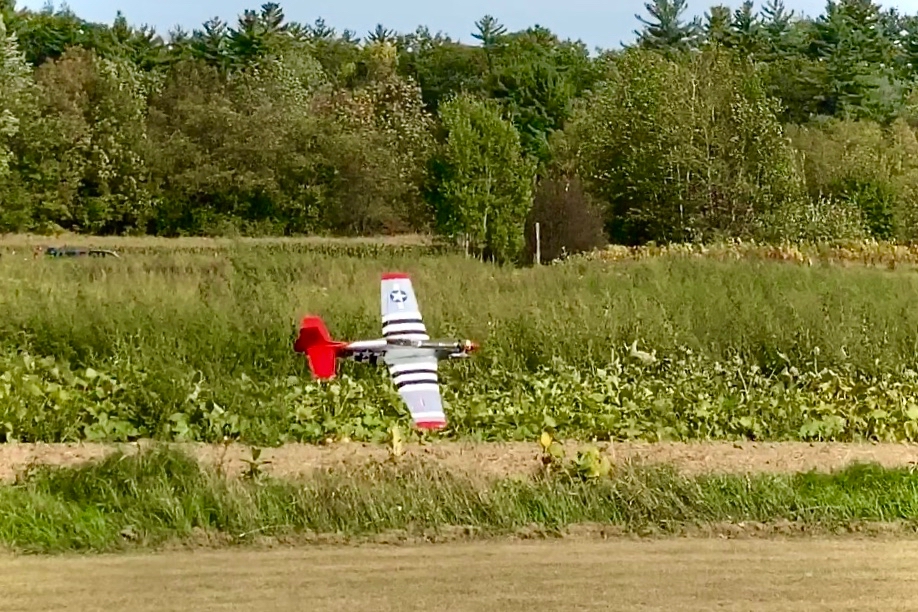 Amy stopped by to see some of the action and shot this photo of YT.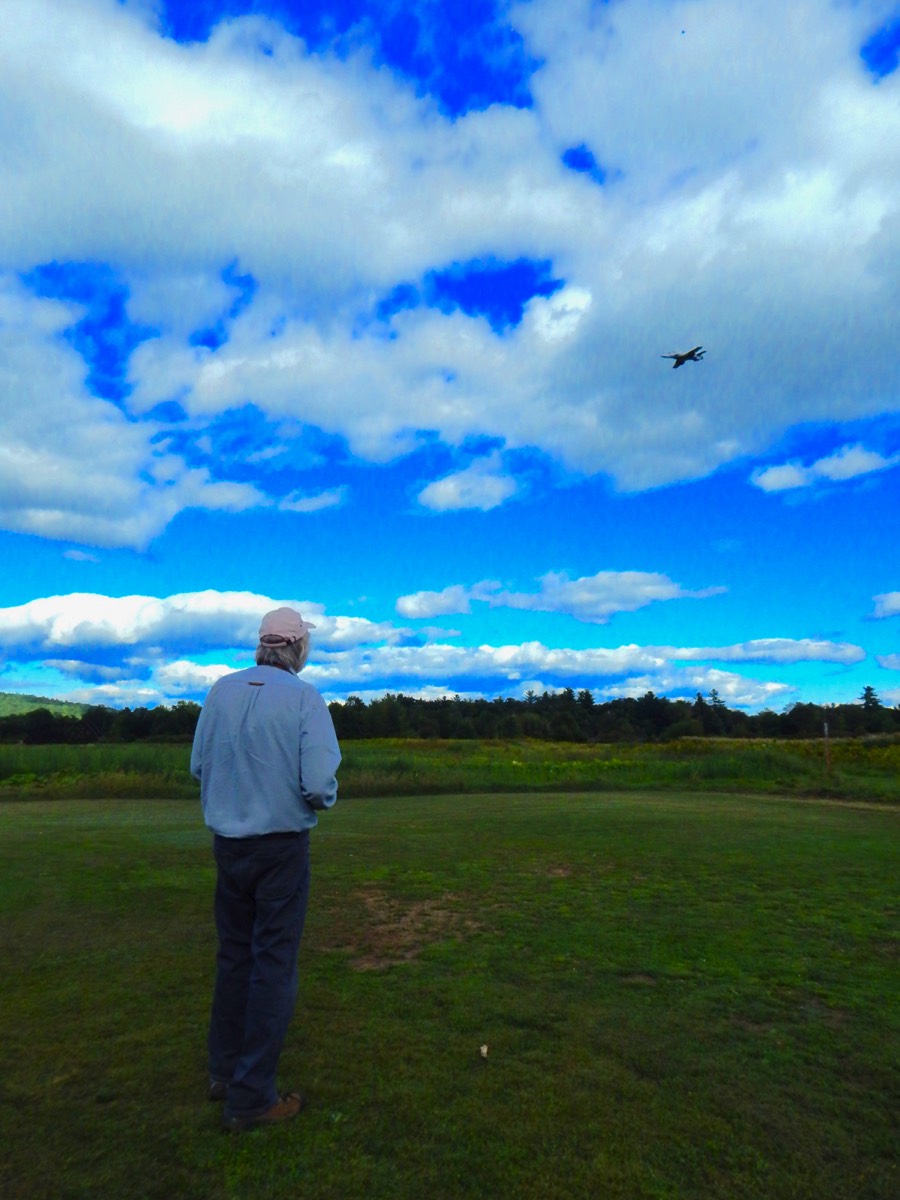 Joe's F16 Maiden flight iPhone video


The F16 is one of Joes new EDF Jets and it is beautiful and flies very well. After the wind died down a bit after the weekend Joe decided to give the F16 a shot. And it went very well even with some wind gusts.

Later Joe and I were racing my Viper against his F16 and it looked fantastic especially in the turns with both jets in 90 degree banks full throttle.

The verdict seems to be the F16 is slower accelerating but just as fast once up to speed. Both are very maneuverable and fun to fly. It just takes a lot of practice to land them the F16 does not have flaps so it is harder to land than the Viper.

More duels are sure to follow…



Olof





Horizon Hobby EC 1500 Maiden Flights.


The EC 1500 flies perfectly both in SAFE and AS3X, I prefer AS3X but SAFE works as described and can be very helpful, especially after dropping cargo or paratroopers when you have a tendency to look at the cargo or troops for a while. Then it is nice to have an autopilot, just stay in half throttle and circle with aileron, this works great.

It was a bit gusty 5-10 MPH in just about every direction, you can see in the video I switched runways after takeoff 180 change in wind then it started gusting directly across, but the 1500 was super stable and very easy to fly, wind had very little effect.

First takeoff only half throttle on a 3S 4000 30C, I was in AS3X and as I was slowly accelerating it took off as I reached half throttle, I flew most of the flight in ¾ throttle or less. Looks great very scale. Easy to see. By far the easiest to fly twin I have ever flown.

I did not have to adjust surfaces at all, and travel was perfect as described in the manual. I flew in high rates with 30% Expo on all 3. I see no need to tame it down or any need for lower rates, maybe on low passes low or mid rates may prove useful.

I have the ailerons in small config with large flaps. The plane comes down pretty fast with full flaps. Both takeoffs were in half (takeoff) flaps.

So I highly recommend this plane. Great Job HH. I know I will have lot of fun with paintballs parachutists and water balloons. I give the plane 5 stars. Just be sure the collets are tightened correctly and I think Threadlock is a good idea.

So here is a an onboard video of my first 2 flights. I did not have a camera person with me for these flights. Too windy, only our Field Marshall and I were on the field to mow and maiden.

Added 2 more flights from Sunday, iPhone videos shot by Joe.


Olof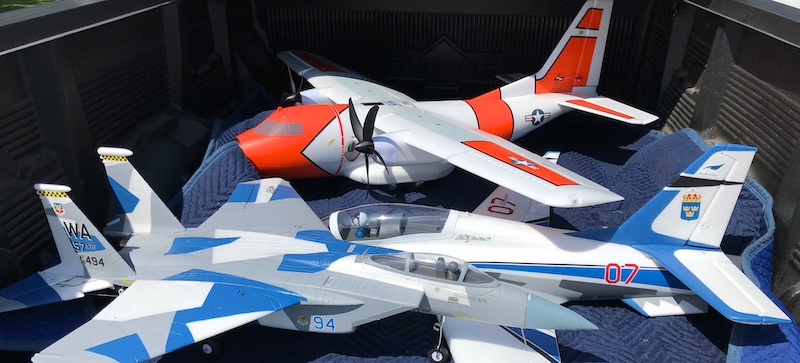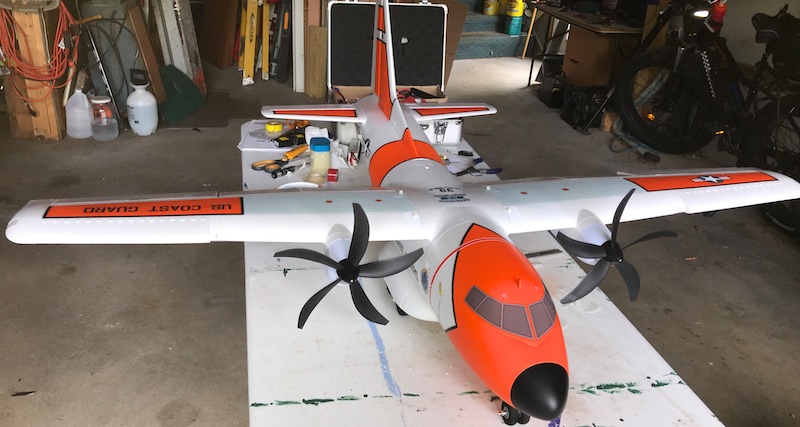 Looks like weather is finally cooling down a bit.

Field was mowed on Saturday, the grass is in great shape, the damage from last years grubs is complety healed.

The carper runway works really well for small wheel planes and EDF jets. But we do need to compact it to take out some of the bumps that have developed with all this rain.

I am not sure if we can vibrate compact w/o damaging the carpet, so we may have to take up the carpet and move it to the side than compact and nail the carpet down again.

We may have a workday in the next couple weeks or I guess we can wait until spring. Most planes handle the bumps OK, some EDF jets with very small wheels and no rudder have a hard time though.

There has also been talk of adding another 12' of width to the carpet, but I think this is a project for next season. It is very good practice to land on the carpet and quite a challenge in gusty cross winds especially with the EDF's with no rudders.

We are staring to fly more of the larger EDF's now and they handle the grass just fine. EDF Jets are really a whole new (relativly) part of this hobby and the new crop is really quite amazing, they are very fast but can slow down nicely and the handle gusty wind very well, they just cut right through. They also sound great with the new 11 and 12 blade fans. Some come with SAFE technology and that makes them much less intimidating to fly. The biggest problem is now not to fly too far away, they are fast. SAFE limits bank and pitch and if you let go of the sticks the model just flies straight and level. So if you lose orientation or sight of the model, just turn on SAFE and let go of the sticks and then turn left or right aileron with half throttle and the plane will just circle until you have it back in sight and orientation sorted out. SAFE can also be very useful in x-wind landings, it smooths out your approach. SAFE is also available in a lot of propeller models and it is much better now than when it was first introduced. Some still hate it, and that is fine. But I personally find it very useful once you realize how it works and what it can do and what it can not do. I know SAFE has made these fast new jets much more manageable at our short grass strip. And when we ran the STEM program this year it had students flying and even taking off and landing w/o buddy boxes in about 10 minutes of instruction, without SAFE this would not be possible.

OK so that was my rant about SAFE. You may not agree but it is now part of this hobby and here to stay I am sure.

By the way SAFE is just Spectrums version of flight stabilization, there are lots of other manufacturers with similar technology, the Horizon Hobby planes come with it all set up with no programming or tuning necessary, just a few additional steps when binding to either use it or not, or to put it on a switch so different modes can be invoked in flight. And some RTF versions require no setup at all.


Olof






Monday the 11 Aug was finally a bit calmer wind vice.

Joe and I had a a bunch of great flights Monday, here are a couple.

There were still a few gusts to contend with but much better than Sat and Sunday. Check gusty landing in the second video.

Did I mention Jets are fun?

Olof






THANKS TO ALL THE HELPERS AT THE STEM AVIATION EVENT THURSDAY.

The kids were a handful but all of them got to fly, we had numerous crashes and tree landings on both Thursdays, but no serious damage except one complete Fly-Away, probably battery got disconnected in the air or the SAFE RX malfunctioned.

The Carbon Cub was last seen heading towards Frechettes possible made it across the River and is in the trees.
A SAR team was sent out but after 30 minutes of intense search no signs were found. Oh well the STEM program still has 4 flyable planes for next year, all we need is a new folding prop for the Night Radian.


Olof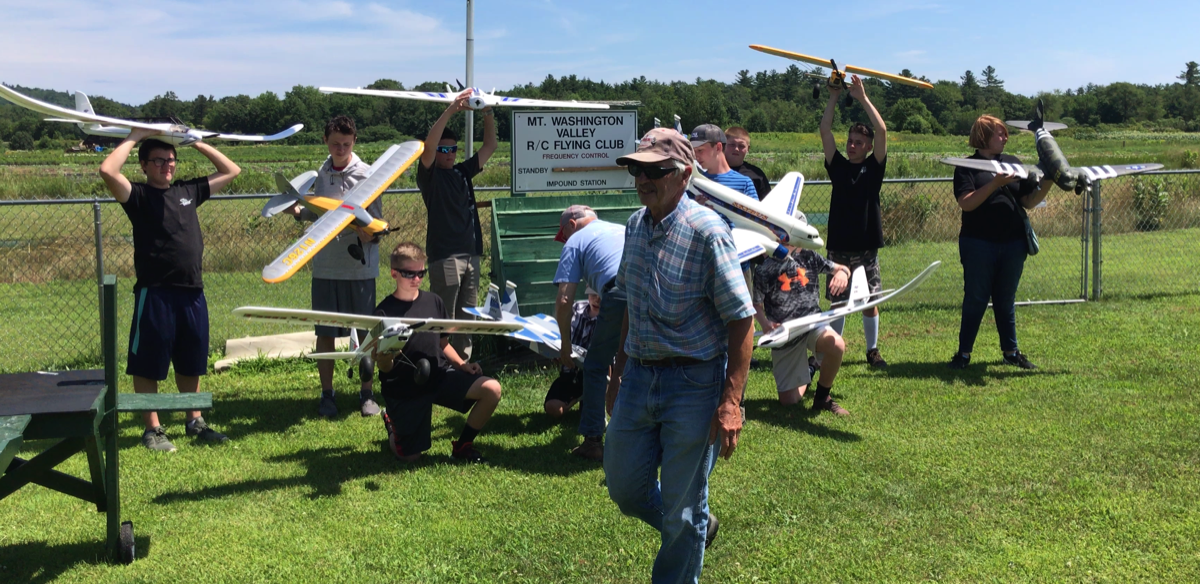 P-39 Flights at Guildhall Fun Flyers Club.

Don, Joe and I were up in Vermont Monday before the rain. It was great opportunity to do a comparo 3S to 4S with the P-39.

I like it both ways. 4S is much zippier and faster accelerating, but 3S feels much gentler.

This plane has SAFE and AS3X and they both work great. SAFE makes it very easy to land and take off in gusty crosswinds. And AS3X makes this 1.2 meter warbird fly much bigger.

It is quickly becoming a favorite.

Joe did a great job shooting with my iPhone. I zoom in 260% in post and reframe the video so the plane stays in frame as much as possible. It is very hard to shoot with the iPhone when the plane moves fast and is so small in the phone screen, you really just sort of aim it at the plane as best you can. It is guesswork when I loop or turn quickly.

Olof





P-39 Maiden Video

It was a windy, calm shifty day Sunday the 21st July.

But I did maiden my P-39. First 2 flights on 3s 2200 lipos.

The third was on a 4s 2200. Much peppier, not that it was a slouch with 3s but 4s is much different, fast in fact.

Unfortunately an incoming phonemail came in just as I was landing so the landing was cut off. Other than that Don did a great job with my iPhone.

I think this little known plane will become one of my favorites, it flies great on 3s and 4s. And the SAFE mode makes windy landings a breeze NPI.


Olof






Don's Paratrooper flight at Guildhall Field

Some excitement as usual during a delicate training mission, all ends well though.

iPhone footage of the intrepid trainees adventures returning to terra firma.

The air was nice and calm until the rain started.

Olof






Bills F15 Maiden Flight.

Shot with my iPhone.

I know Bills heart rate was peaking during this flight. Jets are exiting for sure.

He flew 3-4 more flights on Monday until the wind got to be a bit much, crazy gusts. But it was beautiful in the morning.

These new Jets are really cool and not terrible difficult to fly, as long as you don't fly too far away, 80mph + speeds make for fast shrinking planes.

Olof



The new Carpet is installed.

So this Sunday we installed the new runway for EDF jets and small wheel planes.

But all planes can take advantage of the smooth 190' x 12' runway.

It is great for all those tail draggers like my old Parkzone P47 that got hung up and nosed in on T/O and landing.

It is also fun for all UMX size planes and it looks great nice and green.

We straightened out the original carpet that has now made it through 3 winters and is still in great shape. I have a golf green at home out of this same "astro turf" type of carpet that is now 12 years aold and other than some moss (very easy to remove) it has held up perfectly.

And it is made form "post consumer waste" like old plastic jugs that will now not clog up our oceans but enhance our flying field instead.

I think it is a win-win.

Thanks to all the volunteers that showed up. You know who you are.

Some photos of the installation process, and I may post some video from the drone that these screen grabs are from.

Flying season is now in full swing. Hope to see you all at the field soon


Olof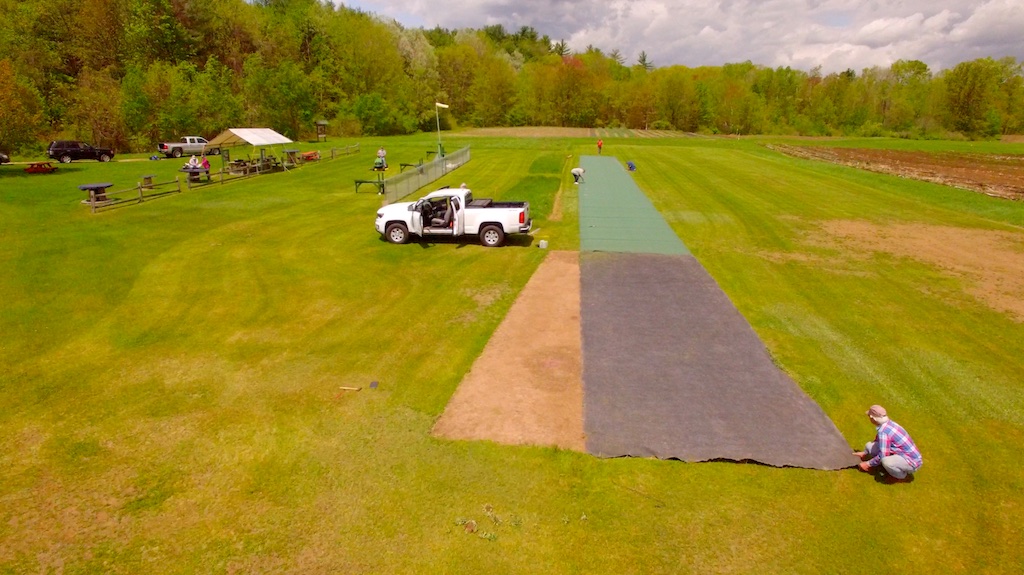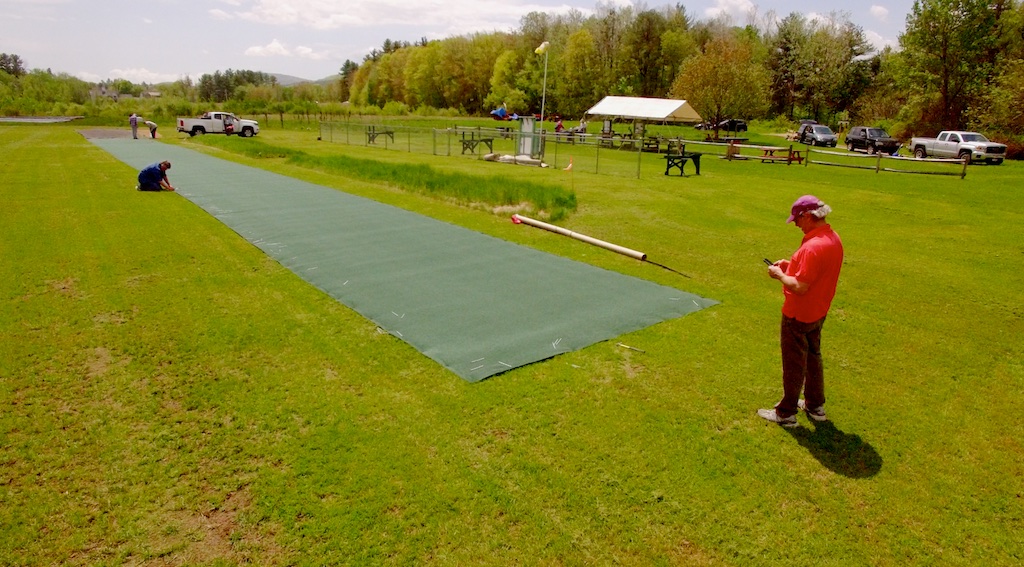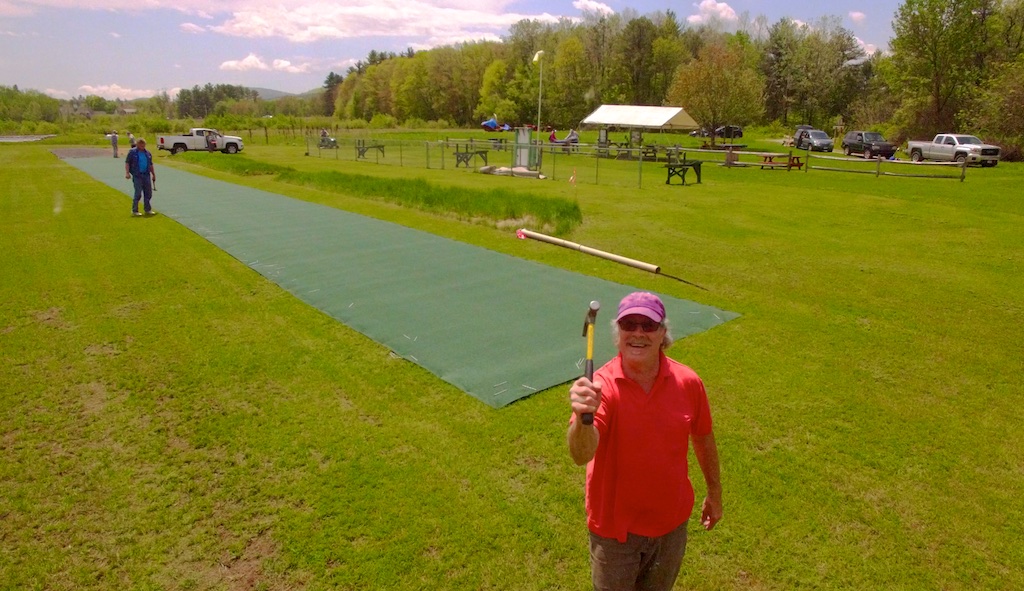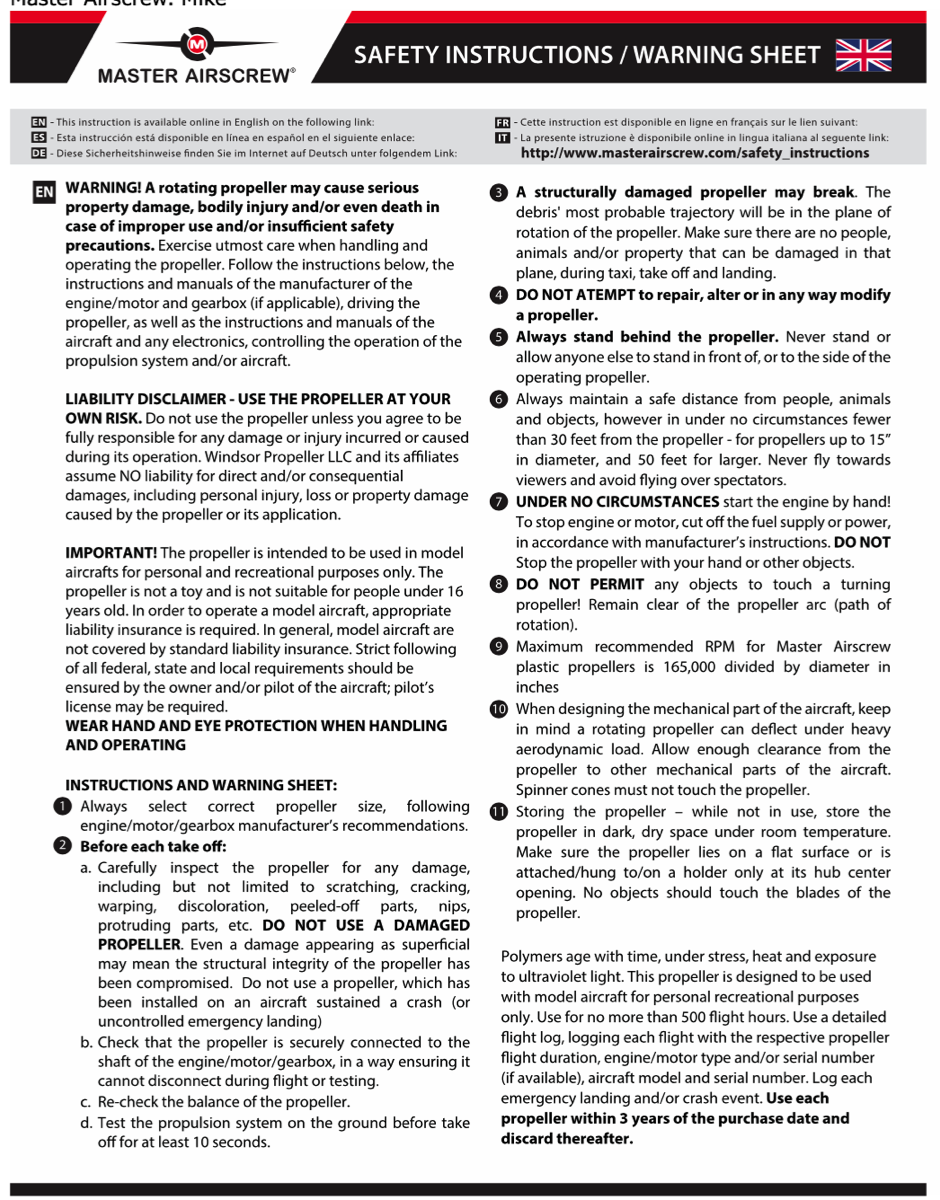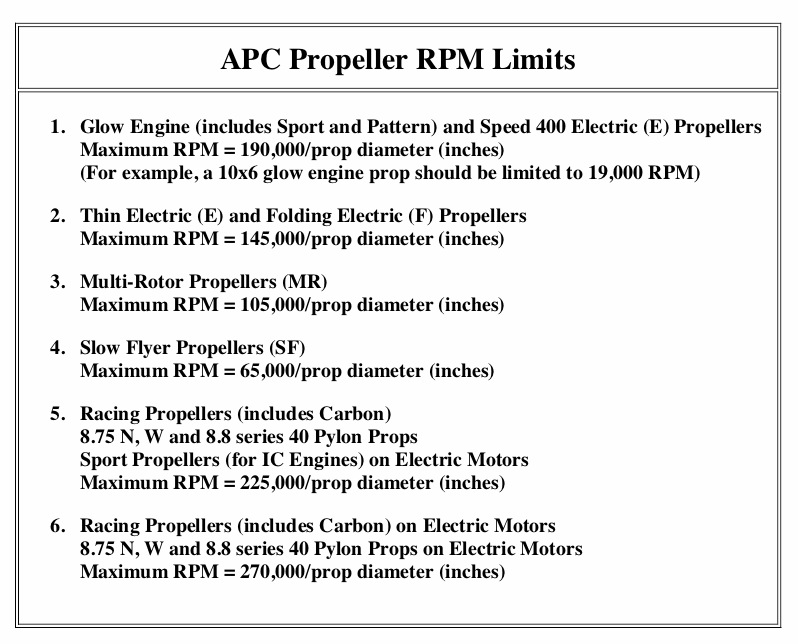 Notice:
The FAA NPRM on registration requiring your FAA number to be located on the outside of the model went into effect on February 25.
No size or location was specified.
For scale modelers, you can write your FAA number on a piece of blue tape and stick it on the airplane when you fly, removing it after landing.
Please make sure that your club members are using the correct FAA website: https://faadronezone.faa.gov/#/.
If you fly Free flight or Control Line outside, you do not need to have your number on the aircraft.

This is from the AMA, and this is a requirement from the FAA, if you don't comply you are in violation of the FAA rules and may be prosecuted and fined.

The MWVRCC is not an enforcement agency for the FAA and we will not be policing this rule.
But we as club officers highly recommend you comply with the rule.
I personally add my AMA # and phone # to the sticker I have on all my planes in addition to the FAA #.
Olof